Hue Lights
Advanced control for your Hue Personal Wireless Lighting System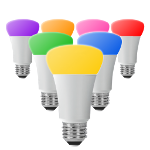 Hue Lights brings you the perfect marriage of hardware and software. Get the most out of your Philips Hue System with fast widget support, shared Scenes and Groups, comprehensive scheduling, and powerful light controls. Create multiple "On" and "Off" schedules per scene. Each scrolling list has one-tap "On" and "Off" controls. Tap on the leftmost light image to turn on a light, scene, or group. Tap on the rightmost power button to turn them off. Tap in the middle to make changes.
Enjoy spectacular choreographed audio/visual background animations! Bring your Hue Lights to a whole new level with multi-track, synchronized, and visually appealing light animations. The "Hue Lights" third-party app for iPhone, iPad, and iPod Touch gives you fast, accurate, and complete control of your Hue Personal Wireless Lighting System. Create personalized categories, scenes, and favorites. Access frequently used lighting scenes with just one tap. Set up your favorite colors with precise control over all possible light attributes. Apply favorites to lights, scenes, and groups for quick set-up and changes.

Questions? Check out our Frequently Asked Questions section. Why try Hue Lights?
Did you know that your Philips Hue bridge and Hue Lights app work great with GE Link LED lights? Please read our article, Brighten your life with Hue Lux and GE Link, for a comparison of these two LED bulbs.
Screenshots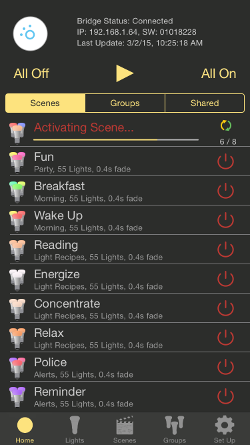 Home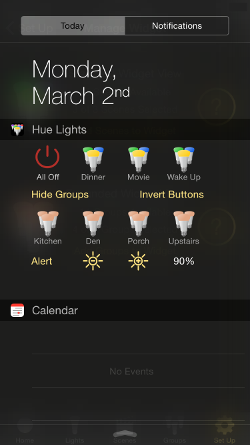 Widget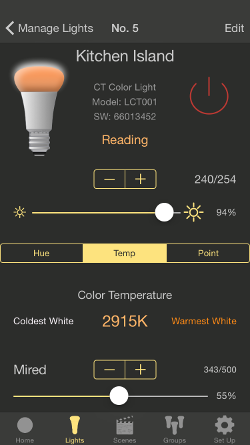 Manage Light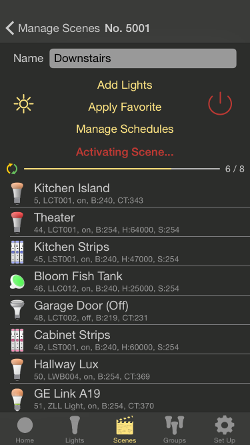 Manage Scene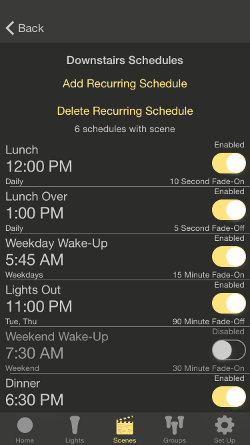 Manage Schedules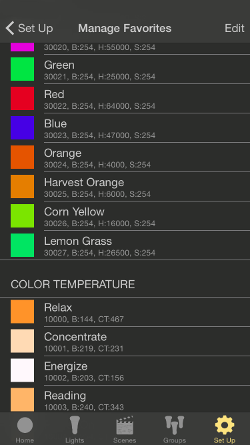 Manage Favorites